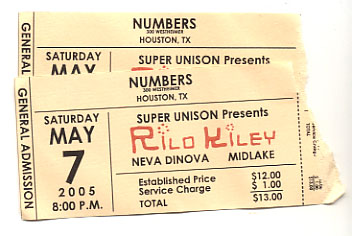 As much as it's easy to conclude that everything out there is either worthless packaged angst (see any Clear Channel modern rock station) or derivative (see any band resurrecting Gang of Four and Joy Division), there are some bands that really make you acknowledge that rock isn't quite dead yet. I give you Rilo Kiley as a worthy example.
The new album "More Adventurous" while generally flirting with its influences ("It's a Hit" hinting at the Smiths and "Love and War" nodding to Pat Benetar[!!]), it is rarely overtaken by them. Jenny Lewis' vocals are wrapped in a work that while gorgeously produced is never so overwrought in its production to bury the song writing or the musicianship. Since downloading the album, it's been virtually spinning on my I-tunes almost non stop so when I and Rosa went to see the show my expectations were pretty high and my expectations were easily exceeded.
Lewis and guitarist Blake Sennett are obviously the creative forces behind the band and both held the audience not through theatrics or posturing but simply through a command of their work and graciousness of character. Lewis particularly seemed to leave nobody unimpressed by playing just about every instrument on stage throughout the show. The other character that everyone seemed enamored with had to be the Bob Ross look-alike trumpet player. He seemed so ecstatic to be on stage with his big bobbing hair that you couldn't help being just as excited. While it sounds goofy to have one person on tour play horn on only a few songs, it really did make a difference on the songs in which he did perform.
Solid musicianship, great songwriting, and some props to the sound guys at Numbers, leave no doubt that if you missed RK this weekend, you missed one of the best shows to come to town this year.