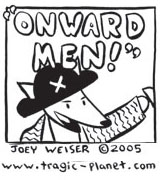 Transmission 12-01-2005 07:12 Hours
Basis:
Discussion of my plan to partake in live performances by
Pong
and
Blowfly
this Friday at
Rudyard's
this Friday, has led to the comment that I listen to obscure music.
Thesis:
Large quantities of the "Modern Rock" Genre will cause serious neurological, psychological, and physiological damage to any human being.
Experiment:
Listen to "The Buzz" all day at work.
Goal:
To listen to a corporate commercial rock station and live.
Methodology:
1.Arrive at work and manually dial up to the station that calls itself the Buzz.
2.Upon finding the frequency and a standard listening volume will be established,.
3.Once set, neither the radio nor the speaker volume can be adjusted.
4.The web browser will locate the station on-line to provide data as to what is being transmitted. This will be left on but minimization will be allowed.
5. Notes will be taken throughout the experiment to document the effects.
6. Once the chamber is entered there will no way out until the standard departure time.
7. Results will be published the following day.
Comments:
Should I not survive, please note that my life was given in the name of science.