It takes a lot for me to actively rag on a local band. My policy is that I could spend much better time praising a deserving band than wasting time ragging on a crappy one but even this policy has its limits.
During last year at the Houston Press Music Awards I was exposed to my first breach of my policy when I witnessed Lonestar Pornstar. A bunch of guys who still play that nu-metal/funk/rap crap that everyone (except drunk frat guys) thought had mercifully died a few years back. Any band that starts off describing itself with "Sex, Drugs, and Rock and Roll" is still wallowing in 13-year-old fantasies but, I guess if Buckcherry is still selling its snake oil to morons, why not these fuckers. Now we have the dubious honor of being in the same category as these guys. My suggestion? Vote for them as best band! Why? If the Best Band curse holds they will break-up within a year of winning. But that was last year....
This year it came as a shock to find a band that was the complete polar opposite of LSPS yet a band that was equally worthy of contempt - Million Year Dance. The band (nominated for best new act and best male vocalist) is easily the most self-absorbed self-important circle-jerk of a band I've seen in quite some time. Musically, let's just say I already own one Coldplay album - I don't need their version. Now in and of itself that's not quite enough to earn my active contempt as there are a lot of bands who sound like bigger acts and will simply garner a ho-hum from me. Where this band takes the ball past the end zone, under the seats, and outside the stadium is on the altar upon which present themselves. They say a picture can say a thousand words. OK well then here are three thousand words: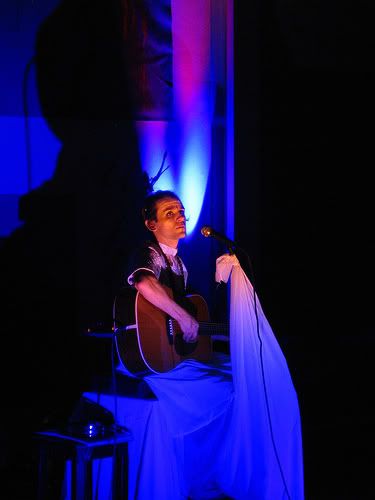 Please, don't interrupt me while I am being sensitive.
I am so fucking beautiful. I mean just look at me!


Damnit, this is not fair trade incense! Who's responsible for this abomination!


But wait there's more. You may ask who has inspired this band? Coldplay, Peter Gabriel, Michael Stipe...Oh wait here it is on their myspace:
"Gandhi, Martin Luther King, John Lennon, Bob Marley, Jesus, Paramahansa Yogananda, The Dalai Lama, Thich Nhat Hanh,and any one who uses non-violent (ahimsa) action to promote positive change in the world."
Then they go onto describe themselves thusly:
In the greatest state of liberation one may witness all the wave energies of the universe connected- these energies are the million year dance. Our mission is for everyone to feel just as much a part of our art as we are. We would hope the listener or audience participant could travel along the journey with us, and not at a distance.

_Joel lewis and nic houston are the pulsating truth, steven wetherell and doyle odom are the infinite mosaic of possibilities, and jonathan welch is the tangible explanation: all of them seamed together by a web of emotional creative response and interactivity_

We are dedicated to positive activism. If anyone has a way of improving the world (maya) and transforming negitive into positive without just complaining yet using action; please feel free to contact us. We would love to help. Of course, help comes from within, so we must all ask ourselves, "What could I be doing at the present moment to bring positive change into the world?"
Now, I grew up with punk rock and one basic anathema to punk rock was the idea of idol worship. Musicians and bands are to be admired and all that but worshipped? That utterly misses the point that the bands are never above their audience. The way MYD portrays itself clearly suggests a clear level of vanity in search of willing apostles.
Now don't get me wrong, I have no issues with strong views or politics in bands. This band played with Free Radicals which is pretty much Nick Cooper's baby. Now is Nick a bit much sometimes with his politics and in his trying to make a buck any chance he gets? Yes, but a few things are important which negate this. First, is the fact that Free Radicals are a great band and the music is the main focus. Secondly, whatever you think about Nick he puts his money where his mouth is. Lastly, the politics of Nick Cooper and his band are one of encouraging individual action by people - not "hold my hand and join us" but a serious challenge. The power to improve things does not come by joining or worshiping the band.
Meanwhile, Million Year Dance says it's committed to "Positive Activism". But what does that mean conctretely? Well as the band states it "
Our mission is for everyone to feel just as much a part of our art as we are."
Salvation can be found in Million Year Dance! The world will change if you sit in a circle burn incense and worship at my feet! Tell me plebians of how great my art is!

FUCK YOU!

You want positive activism? Get off your goddamn pedestal.

And there you have it - the Lonestar Pornstar of 2006.